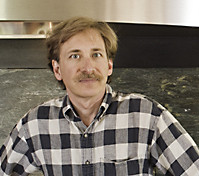 Founded in 1986 by Andrew Jacobson, Design In Wood specializes in the design and construction of the finest quality custom cabinetry and furniture. From assisting you in the development of your design ideas, through the final installation, our goal is to exceed your highest expectations of design, craftsmanship and service.
With his background and degree in Furniture Design and Construction, Andrew started off as a one-man shop designing and building museum-quality furniture for the gallery market. This legacy continues to this day.  Andrew and his craftsmen are known for the building the highest quality custom furniture, but as our capacity has increased over the years, we now tackle cabinetry and millwork projects as well, from a single room to a multi-structure estate.  True to our roots, our cabinetry is built to "furniture grade" standards, using hand-selected woods, top of the line hardware, and the highest quality traditional and modern joinery techniques.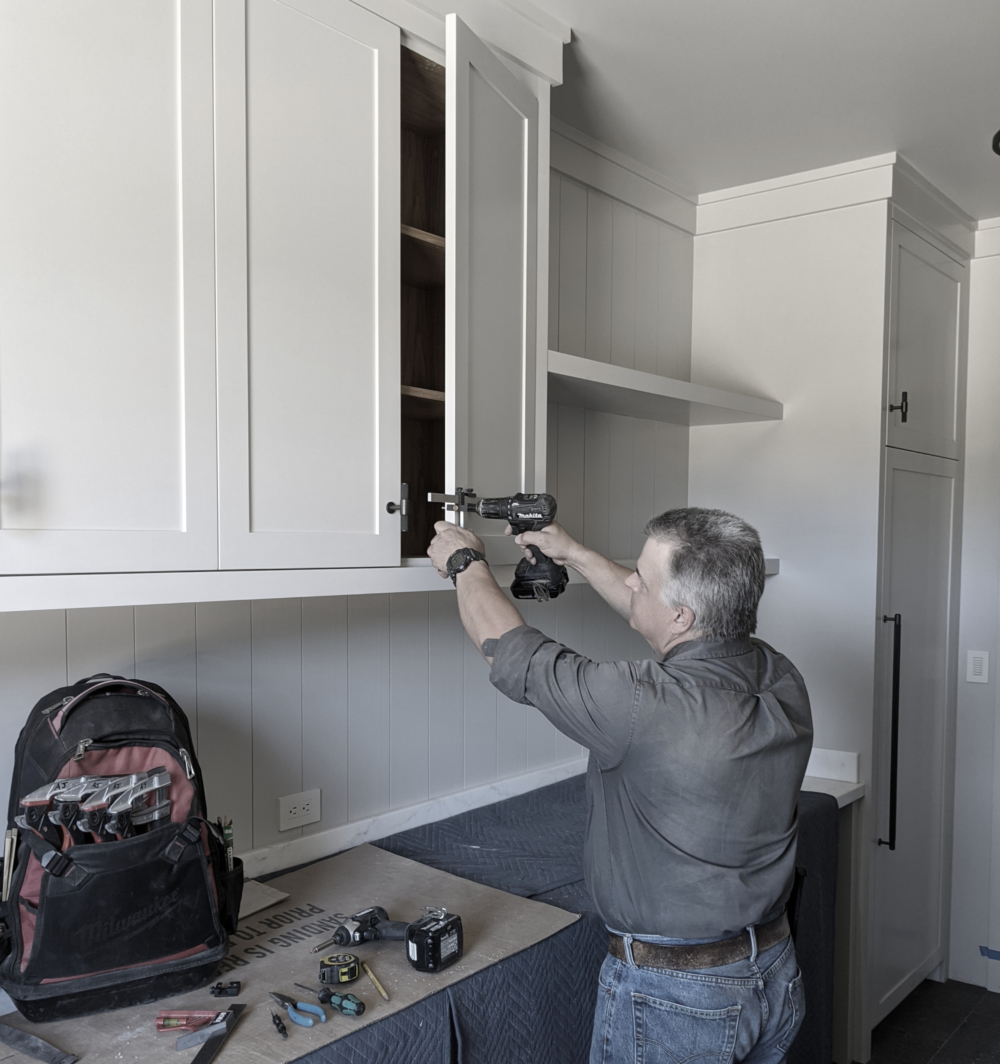 Design In Wood subscribes to an "old world" style of production. Unlike other shops of our capacity where different workers are assigned to particular tasks, for many of our projects one of our highly trained craftsmen will build the project from raw material to ready for finish. During the construction process, the builder continually consults with Andrew and his fellow craftsmen as esthetic and technical questions arise. Though slightly less efficient than the production approach of other shops, we have found this approach to construction produces greater worker satisfaction as well as the highest quality end result for our clients. In addition, unlike many shops, we install what we build. The same craftsman who built your project will typically be involved in installing it. This provides the most efficient and trouble-free installations.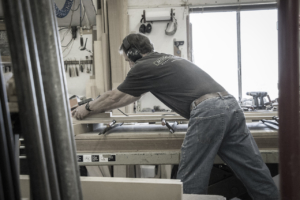 We work with leading architects, designers and contractors from around the Bay Area and beyond, as well as directly with individual clients. Upon approaching us for your project we will provide an itemized Proposal for your prospective job, with all costs clearly broken out by line item for clarity. Upon approval of the Proposal, our draftsman, working side-by-side with Andrew, produces highly detailed CAD construction drawings for client review. Any desired material and finish samples are provided as well. Once your project is underway, all woodwork is done in-house by our skilled craftsmen. With our trusted network of subcontractors crafted over 30 years, we can handle all aspects of your project, including finish, metal, stone and glass. On site, our crew is courteous and respectful of the trust put in us. Often, we find that we are leaving the jobsite cleaner than when we arrived.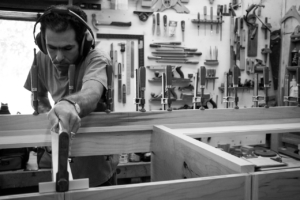 Our craftsmen set us apart. With an average of 25 years of woodworking experience apiece, our builders are fine craftsmen who take pride in their work. Our shop is fully equipped with state-of-the-art woodworking machinery, allowing each builder to achieve the highest degree of precision and efficiency, in an environment that emphasizes safety and quality. With Design In Wood's "old world" approach to production, each builder cares deeply about the project and has a personal investment in creating the best quality end result. You, the client, are the beneficiary.
Design In Wood cares about the community. We donate a portion of all profits to organizations working to protect the environment, so that future generations of woodworkers and everyone else, can have the same access to the natural resources that we have been blessed with. We also provide financial support to local non-profits caring for those less fortunate than ourselves.
"I wanted you to know how much I'm enjoying having so much beautiful storage. You took my ideas and made a Rolls Royce out of a clunker. I can't thank you enough.".
K.F., Client, Santa Rosa, CA
"Let me tell you once again, what a pleasure it is to be working with you and your team. You are a professional of the highest degree, and I say that with 24 years of experience in the industry."
R.L. Tiburon, CA. Designer A.S.I.D.

"Your work and that of your crew is truly excellent. It has been a pleasure working with you. We shall enjoy all your labors for many years to come. If ever I get the opportunity to recommend a fine cabinet maker, you shall be the one. Thanks again".
S.J., Client, Kentfield, CA

"Thank you from another of your (new) raving fans…we made the right choice and will enjoy your's and your teams' artistry for years to come…and yes, it has also been an honor for us to have such talented gentlemen in our home maximizing its beauty. Thank you for adding your wonderful contribution."
P.R., Client. Napa.

"Seldom have I seen such extraordinary craftsmanship coupled with excellent esthetic judgement, problem solving and quality control. From the preliminary design stage to the final installation, Design In Wood produces outstanding work."
R.Z., Santa Rosa, CA. Architect A.I.A.

Design in Wood is a Full Service Woodworking Business....
able to handle all phases of your project in an efficient and professional manner. From a single cabinet to an entire house full of custom furniture, the craftspeople at Design In Wood will create for you woodwork of the highest quality, designed to meet your needs and exceed your desires.